GUIDING YOUR SEARCH
FOR INFORMATION
Making sense of all the materials available on relapsing multiple sclerosis (RMS) is part of Teva Shared Solutions® Digital Services' commitment to empowering patients with knowledge. Use these downloadable decision-making tools so you're better equipped when discussing relapsing MS and managing therapy with your doctor.
---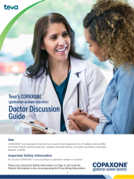 Doctor Discussion Guide
Make an informed decision and talk to your doctor about prescribing COPAXONE®.
DOWNLOAD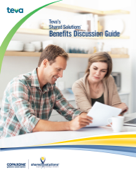 Benefits Discussion Guide
Navigate your healthcare plan options for new or changing coverage by keeping the necessary information handy.
DOWNLOAD