COPAXONE® AND GENERICS
From the conversation with your doctor through receiving your COPAXONE® (glatiramer acetate injection) from the pharmacy, we'll show you how to be proactive about your prescription—and why it's important.
---
Are there generics available for COPAXONE®?
Yes. However, if you're looking for affordable access to your RMS therapy, know that most people taking COPAXONE® 40 mg—more than 70%—pay less than $10 per month out of pocket. Medication costs vary for everyone based on insurance coverage, but to date, about 70% of healthcare plans cover Teva's COPAXONE®.1
Take action to ensure you receive COPAXONE® as prescribed, rather than a generic option:
Talk to your doctor.

Inform the pharmacy.

Check the packaging.
Talk to your doctor about your COPAXONE® prescription
Download this guide from Teva Shared Solutions® Digital Services to prepare for the conversation, whether you are new to COPAXONE® or currently taking COPAXONE® to manage your relapsing MS.

Ask your doctor to include specific language such as "Dispense As Written (DAW)," "Brand Medically Necessary," or other wording as indicated by your state regulations on all new and refill COPAXONE® prescriptions to ensure you receive your RMS therapy as prescribed.

This action helps ensure the pharmacy cannot substitute your COPAXONE® without your doctor's permission and notice to you.
Inform the pharmacy you wish to receive COPAXONE®:
When filling your COPAXONE® prescription for the first time, talk with your pharmacist to request Teva's COPAXONE® by name and ensure this information is recorded for all future prescriptions and refills.

When you receive your prescription, check the package before leaving the pharmacy (or when receiving your prescription by mail) to make sure it is Teva's COPAXONE® vs generic.

If you did not receive your medication as prescribed, talk to your pharmacist immediately and request Teva's COPAXONE® for all new prescriptions and refills moving forward. Then call your doctor's office to alert your doctor of the substitution.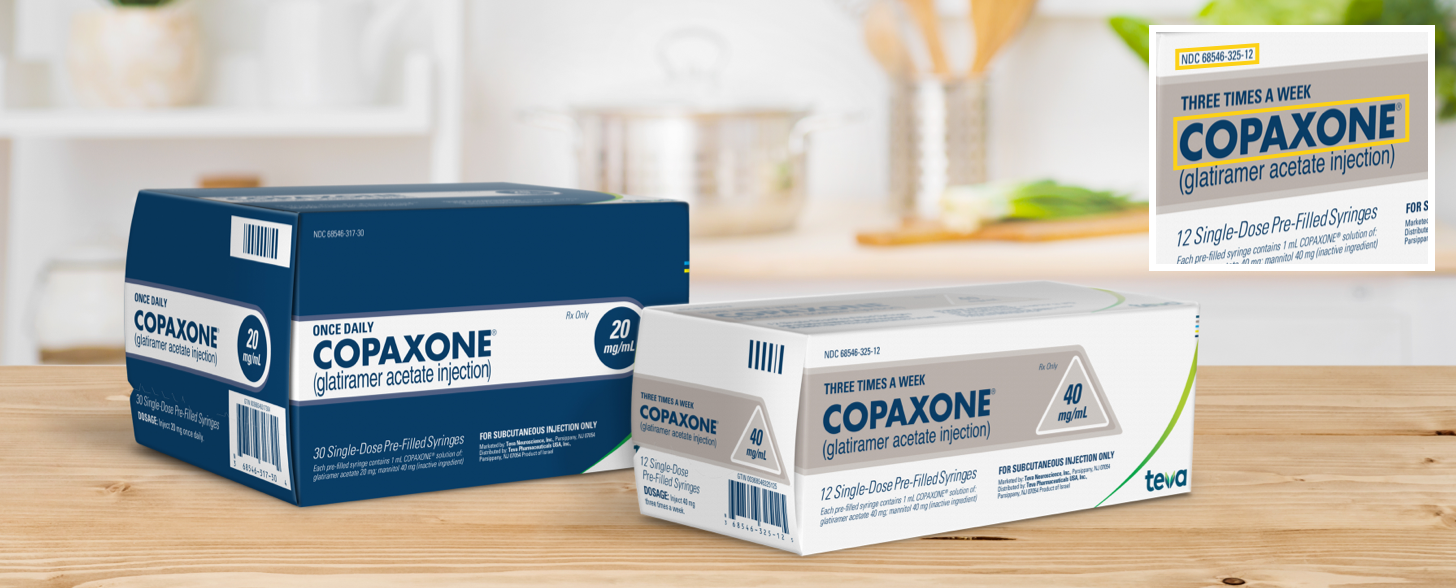 Check the packaging to make sure it's COPAXONE®2:
Look for the COPAXONE® name on all labeling and the NDC number on the box.

Teva's 3-times-a-week COPAXONE® 40 mg can be identified by the blue plunger.
How is COPAXONE® made?
Glatiramer acetate injection is a complicated product to manufacture. FDA-approved for over 25 years, Teva uses a controlled process to ensure consistent quality of the product when manufacturing COPAXONE®.2-4
References:
Decisions Resources Group Coverage by Tier, January 2019. Data proprietary to Decisions Resources Group.

COPAXONE® (glatiramer acetate injection) Current Prescribing Information Parsippany, NJ. Teva Neuroscience, Inc.

Johnson KP. Glatiramer acetate and the glatiramoid class of immunomodulator drugs in multiple sclerosis: an update. Expert Opin Drug Metab Toxicol. 2010;6(5):643-660. doi: 10.1517/17425251003752715

Schellekens H, Klinger E, Mühlebach S, Brin J-F, Storm G, Crommelin DJA. The therapeutic equivalence of complex drugs. Regul Toxicol Pharmacol. 2011;59(1):176-183. doi: 10.1016/j.yrtph.2010.09.021