INJECTION ANSWERS
WHEN YOU NEED THEM
Find the information and resources to help manage your relapsing multiple sclerosis (RMS) therapy from Teva Shared Solutions® Digital Services.
---
Preparation tips for injecting Teva's COPAXONE®:
Schedule an appointment with your healthcare provider for injection training. Even if you have used an injectable therapy before, you should be trained by a doctor or nurse before you inject COPAXONE® for the first time.
Organize your supplies. Download the Teva Shared Solutions® Digital Services Injection Guide for easy-to-reference materials you can print out to use when injecting at home or wherever is best for you. Start by placing each item you'll need on a clean, flat surface1:
1 COPAXONE® prefilled syringe

A warm compress (if you're using it)

An alcohol wipe

A dry cotton ball

A used-syringe disposal container
Before Injecting
When Injecting
After Injecting
Always wash your hands before injecting.1

Remember—wait 20 minutes until your prefilled syringe has reached room temperature before injecting.1

Some people find it helpful to use a warm compress before injecting.

Always use a cloth barrier between bare skin and the warm compress.

Do not use the warm compress in areas where sensation of temperature is impaired.

Alternatively, it may help to ice the site for 1 minute before cleaning the site and injecting.

Clean your injection site with an alcohol wipe, and make sure your skin is dry before injecting.1
Rotation matters. It is extremely important to rotate your injection areas (and sites within each area) to help keep your skin as healthy as possible.1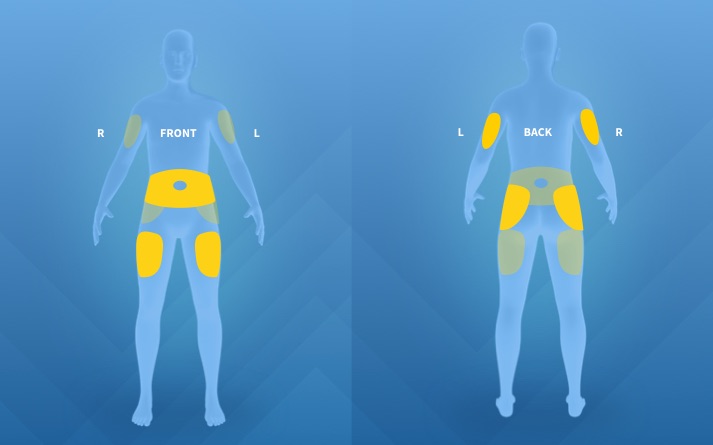 There are 7 injection areas to rotate between. Download the COPAXONE iTracker® 2.0 app to keep track of your injection areas and be sure that you do not inject in the same place (site) more than 1 time each week.1

Your doctor may be able to recommend other appropriate injection sites, if needed.

Avoid injecting into sites with birthmarks, tattoos, stretch marks and scars and/or other skin irregularities.1,2

If there are particles in the syringe or the solution is cloudy, do not use it.1 Report this event to the FDA by calling 1-800-FDA-1088 and to Teva by calling 888-TEVA-USA.

Never inject with a needle that has been dropped on the floor or has come in contact with any other surface. Start over with a new syringe.
Avoid hot showers or baths after you inject.

Do not massage the site immediately after injecting—this can damage underlying tissue. Wait at least 24 hours after injecting.2

Dispose of used syringes in a hard-walled plastic or disposable biohazard sharps container immediately after you inject.1

If you miss a dose, take your COPAXONE® as soon as you remember. If it is nearer to the time of your next scheduled dose, skip the missed dose and resume your usual dosing schedule.

If you have any questions about missing a dose, contact your healthcare provider for assistance.
Please read the Patient Information in the full Prescribing Information.
References:
COPAXONE® (glatiramer acetate injection) Current Prescribing Information Parsippany, NJ. Teva Neuroscience, Inc.

McEwan L, Brown J, Poirier J, et al. Best practices in skin care for the multiple sclerosis patient receiving injectable therapies. Int J MS Care. 2010;12(4):177-189. doi:10.7224/1537-2073-12.4.177